The Representation of Nature between Art and Science
Abstract
The current issue of "DISEGNARECON" collects examples of works, researches and experiments able to testify the central role that the observation of reality plays within the knowledge and creative process in several fields. Similarly to the Renaissance, when the introduction of new instruments for observing reality suggested considerations whose consequences went beyond contingencies and called into question an entire cultural system, in recent decades, thanks to the availability of new sophisticated tools and methods of investigation, we witnessed a renewed interest in Nature and its observation that has suggested applications in different fields. The study of Nature, of its forms, functions and principles that rule the evolution and the balance between living creatures and the external environment proposes experimentations in fields such as, for example, architecture and design of the environment, which are actually called to provide answers to the problem of the relationship between man and the natural environment.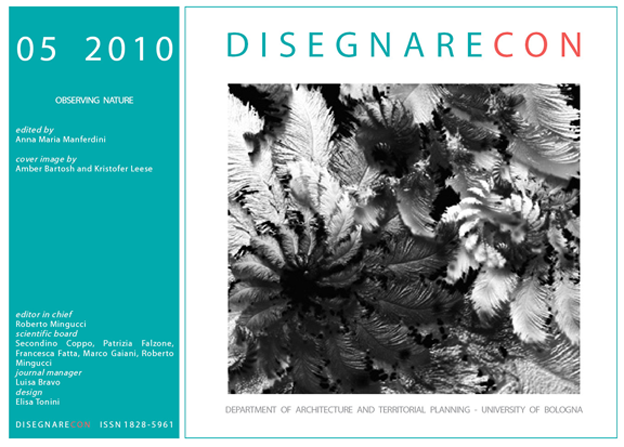 Downloads
How to Cite
Manferdini, A. M. (2010). The Representation of Nature between Art and Science. DISEGNARECON, 3(5), 1–6. https://doi.org/10.6092/issn.1828-5961/1934
License
Copyright (c) 2010 Anna Maria Manferdini
This journal is licensed under a 
Creative Commons Attribution-NonCommercial 3.0 Unported License
.