A.I.M. [multimedia information archive] for the project
Abstract
Our main goal is to locate and integrate a range of technologies and operating strategies in order to create a latest-generation digital architecture that can provide a virtually unlimited multimedia information archive (A.I.M.) with scalable multiple format multimedia files (photos, drawings, etc.) and 3D models. It is basically about database applications: all the properties under survey must be appropriately inventoried and the inventory cards subsequently organized in a structured way. The purpose of the A.I.M. is to prove that it is possible to integrate different sources of information, constantly updatable and equipped with a specific interface for management and research, designed to dynamically support different levels of information. It also aims to be a valuable monitoring tool for professionals of restoration and conservation work, as well as managers of cultural heritage in general.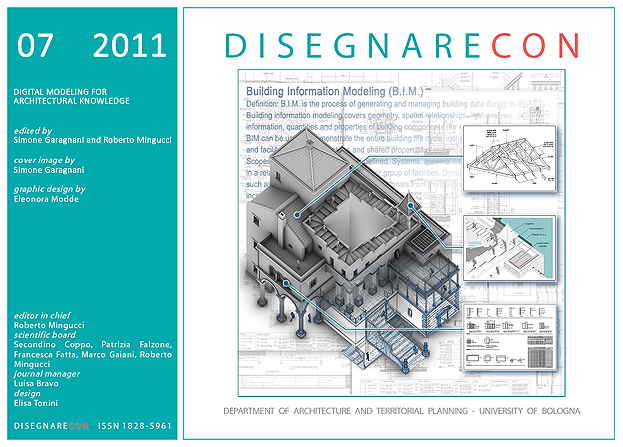 Downloads
How to Cite
Bartolomei, C. (2011). A.I.M. [multimedia information archive] for the project. DISEGNARECON, 4(7), 88–97. https://doi.org/10.6092/issn.1828-5961/2305
License
Copyright (c) 2011 Cristiana Bartolomei
This journal is licensed under a 
Creative Commons Attribution-NonCommercial 3.0 Unported License
.