Architectures drawn / digital models: the Venices (im)possible on line
Keywords:
Architecture, landscape, GIS, Virtual city, Digital city models,
Abstract
A contemporary city representation talks not only about architecture and landscape but also about the effects that political institutions, cultural traditions and economic enterprises have on the urban community. Methods and ways traditionally used to present the complexity and, at the same time, the personality of a town, or on a smaller scale of one of his monument, are not suitable with the contemporary reality.
A very famous panel presented at Venice Biennale in 1976, Aldo Rossi's «Città Analoga», within real and ideal architectures, ancient monuments and contemporary landscapes, individual and collective memories, human presences and empty spaces, can be taken as an example for the preparation of a new 'story' or a new 'map' for a city like Venice. The space of a digital model can become a place for discussion and analysis, a place where to see together historical records and projects never realized, where to put subjective and objective visions, which overlap daily and occasional tracks.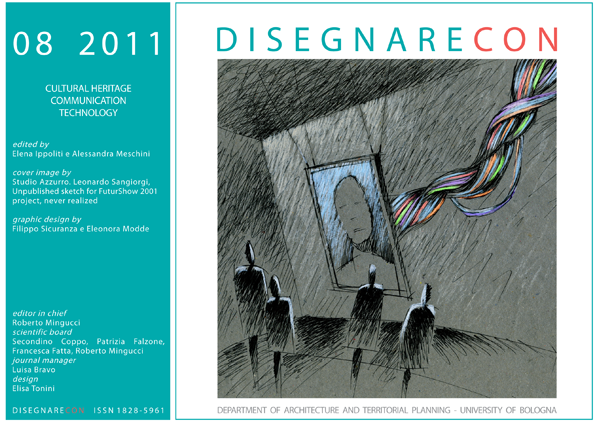 Downloads
How to Cite
Borgherini, M. (2011). Architectures drawn / digital models: the Venices (im)possible on line. DISEGNARECON, 4(8), 124–128. https://doi.org/10.6092/issn.1828-5961/2576
License
Copyright (c) 2011 Malvina Borgherini
This journal is licensed under a 
Creative Commons Attribution-NonCommercial 3.0 Unported License
.