Building Information Modeling between research, teaching and professional
Abstract
Nowadays trade practice increasingly requires more and more specific skills and extremely tight deadlines; this reveals the taste to orient software technologies to a more conscious use, aiming at procedural strategies for the use of shared platforms. This paper will trace a brief outline about the capabilities of the new methodologies -the parametric design- through the description of recent testings conducted at the Department of Building Engineering and Territorial Systems (DISET) of the Politecnico di Torino, carried out in collaboration with the Building Service of the same university, having a look at the positive impact that these developments will mean for the academic field.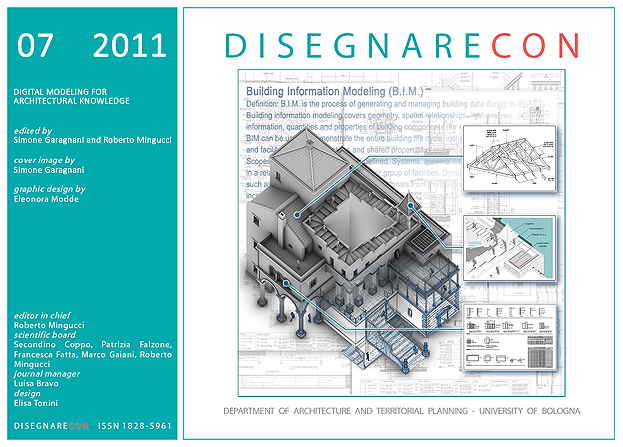 Downloads
How to Cite
Lo Turco, M. (2011). Building Information Modeling between research, teaching and professional. DISEGNARECON, 4(7), 42–51. https://doi.org/10.6092/issn.1828-5961/2300
License
Copyright (c) 2011 Massimiliano Lo Turco
This journal is licensed under a 
Creative Commons Attribution-NonCommercial 3.0 Unported License
.