Digital Media and enjoyment of Cultural Heritage
Keywords:
Enjoyment of Cultural Heritage, digital applications to Cultural Heritage, vision technologies, edutainment,
Abstract
Preserving, protecting and improving cultural heritage depend on its working role in society, which is achieved only when it is made the most of by the community. As far back as 1967 the Franceschini Commission made a statement in its official records, (the 17th declaration) underlining the necessity to guarantee that cultural heritage should be made available to the public, that is, to be used for pleasure, amusement, satisfaction and personal gratification.
From this point of view, our paper leads to speculation on how digital technology can be applied to cultural heritage and, furthermore, can contribute towards the creation of effective communicative means. By taking advantage of sensory and emotional involvement, these communicative techniques should be aimed at allowing an ever wider public audience to access information on cultural heritage.
These forms of communication should be shaped around those rules that are at the basis of every form of amusement. Enjoying oneself is to be taken seriously and those who don't follow the rules are to be considered spoilsports.
References
Galluzzi P., Valentino P. A., a cura di, I formati della memoria. Beni culturali e nuove tecnologie alle soglie del terzo millennio, Giunti, Firenze 1997.
Giardino V., Piazza M., Senza Parole. Ragionare con le immagini, Bompiani, Milano, 2008.
Giglio A., Messina I., L'edutainment nella didattica delle lingue: nemico o alleato?, in "Lingu@ggi 21.0. Lingue, Culture e TIC nel Ventunesimo secolo", n. I-2011, Atti della giornata di studio "Didattica 2.gioc0", http://lctic.altervista.org/blog/ledutainment-nella-didattica-delle-lingue-nemico-o-alleato-alessandra-giglio-ilaria-messina/.
Grienti V., Chiesa e web 2.0. Pericoli e opportunità in rete, Effatà Editrice, Cantalupa (TO), 2009, p. 77.
Hand E., People power. Networks of human minds are taking citizen science to a new level, Nature, vol. 466, 685-687, 5 agosto 2010.
Huizinga J., Homo Ludens, Amsterdam, 1939, traduzione telematica a cura di Biondi R., Ponti N., Cacciotti G., Guagliardo V., http://gdr.net/imago/materiali.htm.
Ippoliti, E., Meschini, A., Dal "modello 3D" alla "scena 3D". Prospettive e opportunità per la valorizzazione del patrimonio culturale architettonico e urbano, in Bartolomei, C., (a cura di), in La documentazione dei beni culturali, "DISEGNARECON", vol. 3, n. 6, 2010, Università di Bologna, ISSN 1828-5961, pp. 77-91, disponibile all'indirizzo: http://disegnarecon.cib.unibo.it/article/view/2083.
Ippoliti, E., Meschini, A., Rossi, D., Moscati A., An approach towards the construction of a digital atlas for the documentation of cloister and courtyards in Ascoli Piceno in F. Remondino, S. El-Hakim (a cura di), Proceedings of the 4th ISPRS International Workshop "3D-ARCH 2011 - 3D Virtual Reconstruction and Visualization of Complex Architectures", Trento, 2011, (ISSN 16821777), pp. 1-8.
Ippoliti, E., Meschini, A., La "scena 3D" per la valorizzazione del patrimonio culturale architettonico e urbano: piazza Arringo ad Ascoli Piceno in Gambardella, C., (a cura di), Atti del IX Forum Internazionale di Studi Le vie dei Mercanti "S.A.V.E. Heritage - Safeguard of Architectural, Visual, Environmental Heritage", La scuola di Pitagora, Napoli, 2011, (ISBN 978-88-6542-046-1), pp. 1-10.
Khatib F., Di Maio F., Foldit Contenders Group, Foldit Void Crushers Group, Cooper S., Kazmierczyk M., Gilski M., Krzywda S., Zabranska H., Pichova I., Thompson J., Popović Z., Jaskolski M., & Baker D., Crystal structure of a monomeric retroviral protease solved by protein folding game players, Nature, Structural & Molecular Biology, 18, pp. 1175–1177, 2011.
Kircheri A., Ars magna lucis et vmbræ in decem libros digesta. Quibus admirandae lucis et vmbrae in mundo, atque adeo vniuersa natura, vires effectusq. vti noua, ita varia nouorum reconditorumq. speciminum exhibitione, ad varios mortalium vsus, panduntur, sumptibus Hermanni Scheus, ex typographia Ludouici Grignani, Romae, 1646.
Lo Sardo E., Athanasius Kircher. Il museo del mondo, De Luca, Roma, 2001, p. 15.
Papert S., Mindstorms: Children, Computers, and Powerful Ideas, Basic Books, New York, 1980 (ed. italiana: Mindstorms: bambini, computers e creatività, Emme, Milano, 1984).
Papert S., The Children's Machine: Rethinking School in the Age of the Computer, Basic Books, New York, 1993 (ed. italiana: I bambini e il computer, Rizzoli, Milano, 1994, p. 16).
Valentino P. A., Delli Quadri L. M. R., a cura di, Cultura in gioco: le nuove frontiere di musei, didattica e industria culturale nell'era dell'interattività, Giunti, Firenze 2004.
Varani A., Realtà virtuale, apprendimento e didattica, in "Informatica & Scuola", n. 3, 2004, www.costruttivismoedidattica.it/articoli/Varani/Varani_RV.pdf.
Ventimiglia G., Naturale, artificiale, virtuale. Brevi note di ontologia (e teologia) del virtuale, in "Nova et Vetera" (edizione italiana), 2001, 4.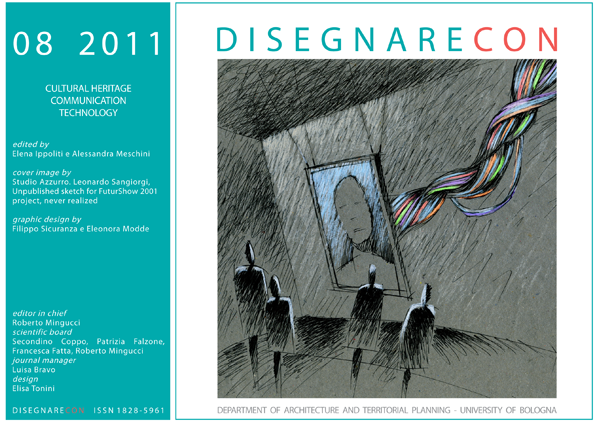 Downloads
How to Cite
Ippoliti, E. (2011). Digital Media and enjoyment of Cultural Heritage. DISEGNARECON, 4(8), 2–13. https://doi.org/10.6092/issn.1828-5961/2564
License
Copyright (c) 2011 Elena Ippoliti
This journal is licensed under a 
Creative Commons Attribution-NonCommercial 3.0 Unported License
.