Which basis? Which image?
Keywords:
drawing, geometry, descriptive geometry, modelling
Abstract
The digital revolution poses several questions to scholars of architectural representation. It is now difficult to speak of Geometry, because we have to distinguish between various geometries , and we can expand the potential construction of topology  and form finding of parametric relationships.
It also raises the question about the current function of Drawing: from the undisputed foundation of the arts, in fact, drawing can now be replaced by images obtained by a process that often begins with the construction of a 3D model, then coated with materials and inserted in an existing or imagined setting that provides light sources. This process has strong similarities with the traditional artistic practices denouncing a foundation in their roots in contrast to its revolutionary potential.
References
Kuhn, Thomas Samuel (1969), La struttura delle rivoluzioni scientifiche, Einaudi, Torino 1969; ediz. orig. The Structure of Scientific Revolutions, 1962
Agazzi, Evandro-Palladino, Dario (1978), Le geometrie non euclidee e i fondamenti della geometria, Mondadori, Milano
Boffito Maura (1989) Dentro la geometria. Sui prodromi di geometra proiettiva, evoluzione storica e applicazioni, Genova; ediz. Genova 1996
Mandelbrot, Benoît B. (1987), Gli oggetti frattali, Einaudi, Torino; ediz. orig. Les objets fractals: forme, hasard et dimension, Flammarion, Paris 1975
Saggio Antonino (1996), Peter Eisenman. Trivellazioni dal futuro, Testo & Immagine, Torino
Migliari, Riccardo-Valenti Graziano Mario (2000), Fondamenti di Rappresentazione geometrica e informatica dell'architettura, Kappa, Roma
Emmer, Michele (2002), a cura di, Matematica, arte, tecnologia, cinema, Springer Italia, Milano
Giordano, Andrea (2002), La geometria nell'immagine. Dal secolo dei lumi all'epoca attuale, Utet, Torino
De Rosa, Agostino (2003), Lo sguardo denigrato. Ruolo dell'osservatore nell'era della rappresentazione digitale, Il Poligrafo, Padova
Purini, Franco (2003), Digital divide, in Sacchi, Livio-Unali, Maurizio, Architettura e cultura digitale, Skira, Milano, pp. 87-96
Sacchi, Livio (2003), Liquid room, in Sacchi, Livio-Unali, Maurizio (2003), Architettura e cultura digitale, Skira, Milano, pp. 211-216
Camerota, Filippo (2006), La prospettiva del Rinascimento. Arte, architettura, scienza, Mondadori, Milano
Empler, Tommaso (2006), Modellazione 3D e rendering, Officina Edizioni, Roma
Bianchini, Carlo, Dal reale al virtuale e ritorno: appunti, in De Carlo Laura (2007), a cura di, Informatica e fondamenti scientifici della rappresentazione, Gangemi, Roma, pp. 315-324.
Saggio, Antonino (2007), Introduzione alla rivoluzione informatica in architettura, Carocci, Roma
Migliari, Riccardo (2008), a cura di, Prospettiva dinamica interattiva. La tecnologia dei videogiochi per l'esplorazione di modelli 3D di architettura, Kappa, Roma
Valenti, Graziano Mario (2008), De.form.are, Designpress, Roma
De Carlo, Laura-Baglioni, Leonardo (2009), Le linee curve, in Migliari, Riccardo, Geometria Descrittiva. II, Città Studi, Novara, pp. 97-143
Migliari, Riccardo-Fallavolita, Federico-Salvatore Marta (2009), Superfici in Migliari Riccardo, Geometria Descrittiva. II, Città Studi, Novara, pp. 144-295
Càndito, Cristina (2010), Il disegno e la luce. Fondamenti e metodi, storia e nuove applicazioni delle ombre e dei riflessi nella rappresentazione / Drawing and light. Bases and methods, history and new applications of shadows and reflections in representation, Alinea, Firenze
Khabazi Zubin (2010), Algoritmi generativi, trad. it. di Marsala Antonino http://www.grasshopper3d.com/page/tutorials-1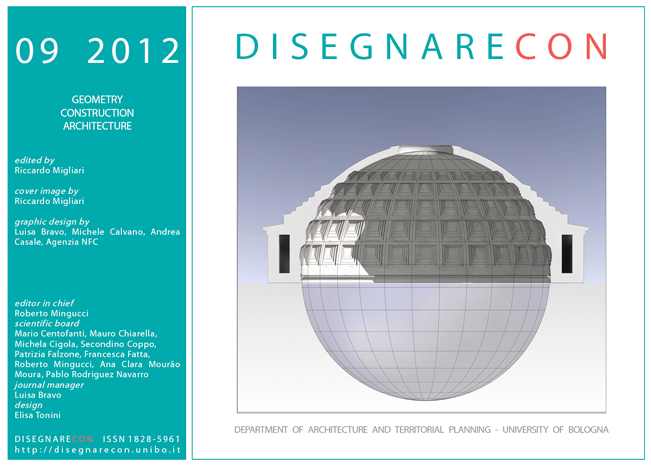 Downloads
How to Cite
Càndito, C. (2012). Which basis? Which image?. DISEGNARECON, 5(9), 5–12. https://doi.org/10.6092/issn.1828-5961/3146
License
Copyright (c) 2012 Cristina Càndito
This journal is licensed under a 
Creative Commons Attribution-NonCommercial 3.0 Unported License
.