Vol. 5, n. 9 (2012) - Geometry - Construction - Architecture, edited by Riccardo Migliari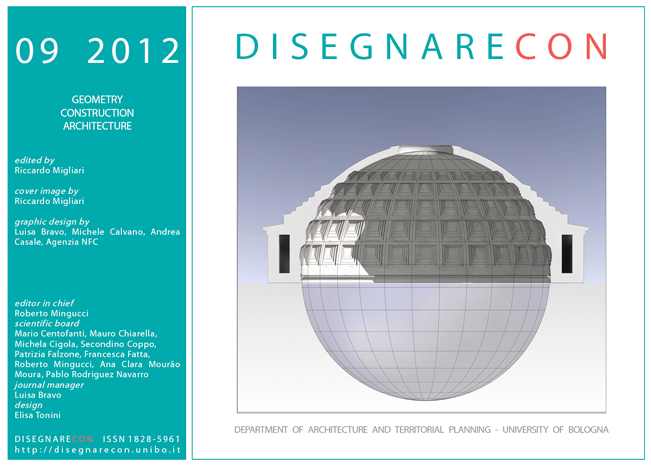 The verb "to construct" can be used, with equivalent meaning, in two apparently distant contexts, the theoretical and abstract context of the Geometry and the practical and physical context of the Architecture.
The profound relation of the verb to the two contexts remains as such, both if the meaning of Geometry specialises into its different acceptations (Euclidean, solid, descriptive, differential …), and also when the scale of the Architecture is understood to be extended to the landscape, the town planning, the building industry and the design.Thus, in the word "construction", is concealed, more than in any other, the answer to the question set by the advent of the digital representation and namely whether the study of geometry is still among the foundations of the formation of an architect, an engineer and a designer. If it is so, the word "construction" can perhaps answer a second question, which derives from the first: which geometry?
Issue 9/2012 of DISEGNARECON will be hosting the possible answers to the two questions we set. The problem will be dealt with both from the theoretical and from the practical point of view, providing examples; both from the point of view of the research, and from the didactic point of view; in order to outline the current evolution of the geometric disciplines within architectural, engineering and design studies.