Systematization of the order of the methods of graphic representation. The perspective as matrix of methods
Keywords:
descriptive geometry, perspective, representation
Abstract
As regards the order of the methods of exhibition graphic representation is intended to propose a sequence reverse to that of traditional exposures but at the same time in harmony with both the chronological order, historical, in which the methods themselves are shaped both with what can be considered the order of their expressive potential, their capacity is representative of three dimensional space in relation to the visuality of their content from the common matrix derivategli perspective. The order most commonly followed is: double orthographic projection, isometric, quoted projections, perspective and are expected instead to place the methods in what is thought to be intrinsically natural order, which is both historical and functional perspective, axonometric, method of projections, contour map.
References
Poudra, Noël Germinal (1864), Histoire de la perspective ancienne et moderne, Paris.
Fiedler, Guglielmo (1874), Trattato di Geometria Descrittiva, Successori Le Monnier, Firenze.
Loria, Gino (1921), Storia della Geometria Descrittiva dalle origini sino ai giorni nostri, Hoepli, Milano.
Gioseffi, Decio (1957), Perspectiva Artificialis. Per la storia della prospettiva, spigolature e appunti, Istituto di Storia dell'Arte Antica e Moderna, n° 7, Trieste.
Panofsky, Erwin (1961), La prospettiva come "forma simbolica" e altri scritti, Feltrinelli, Milano [Die Perspektive als "symbolische Form", B.G. Teubner, Leipzig-Berlin, 1927].
Parronchi, Alessandro (1964), Studi su la dolce prospettiva, Martello, Milano.
Vagnetti, Luigi (1979), De naturali et artificiali perspectiva, Edizione della cattedra di Composizione architettonica I A di Firenze e della L.E.F. (Libreria Editrice Fiorentina), Firenze.
Fasolo, Orseolo (1984), Un modo nuovo ma antico di fare e insegnare la prospettiva, note di cronaca e storia delle applicazioni della geometria descrittiva ai problemi della rappresentazione, Quaderni di Applicazioni della Geometria Descrittiva, 3, Kappa, Roma.
Fasolo, Orseolo, Fasolo, Marco (1993-1995), L'esame di fondamenti e applicazioni della Geometria Descrittiva, Vol. I-II, Kappa, Roma.
Kemp, Martin (1994), La scienza dell'arte: prospettiva e percezione visiva da Brunelleschi a Seurat, Giunti, Firenze.
Migliari, Riccardo (1995), La prospettiva e l'infinito, In: Disegnare - idee: immagini, 11.
Migliari, Riccardo (2005), La prospettiva e Panofsky, In: Disegnare - idee: immagini, 31.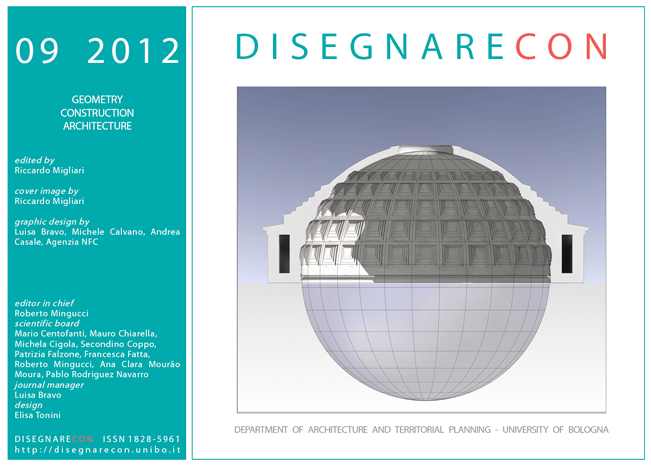 Downloads
How to Cite
Fasolo, M. (2012). Systematization of the order of the methods of graphic representation. The perspective as matrix of methods. DISEGNARECON, 5(9), 37–40. https://doi.org/10.6092/issn.1828-5961/3150
License
Copyright (c) 2012 Marco Fasolo
This journal is licensed under a 
Creative Commons Attribution-NonCommercial 3.0 Unported License
.