The roofing systems of the Politeama's Theater in Palermo
Keywords:
theatre, iron roof, architectural drawings, geometrical investigations
Abstract
In the project of the Politeama's Theater in Palermo, the Architect Almeyda summarizes, in an expressive and model balance, the technological component and geometrical/spatial  shape, providing optimal solutions to a structural and functional problems. Thanks to its typological approach, thanks to its technological aspects and, specifically, thanks to its size and its style, the work offers us some interesting reflections about the technical choices carried out for the construction. The Author, basing on some original Almeyda's drawings, deepens the geometric and compositional system of the roof. The daring and complex construction carried out in iron and glass, modern and progressive in form, it manifests itself as a metal curtain to form the supporting structure of the roof. The Author provides useful key to interpreting about the genesis of elegant and original space.
References
DI PAOLA FRANCESCO, INZERILLO LAURA (2012), Giuseppe Damiani Almeyda: design drawings compared, contributo in Atti del XIV Congreso Intenacional Expresión Gráfica Arquitectónica, Oporto, pp. 179-182.
DI PAOLA FRANCESCO (2011), Le Curve di Apollonio. Tradizione ed Innovazione nei processi risolutivi, Aracne Editore, Roma.
PAOLA BARBERA (2008), Giuseppe Damiani Almeyda. Artista architetto ingegnere, Pielle Edizioni, Palermo.
DI PAOLA FRANCESCO (2007), Approfondimenti e confronti geometrici sugli archi ribassati in architetture palermitane, in D'ALESSANDRO MARIA (a cura di), L'Architettura di età aragonese nell'Italia Centro-Meridionale – L'architettura dei età aragonese nel Val di Mazara, Edizioni Caracol,
Palermo, pp. 125-144.
DAMIANI ALMEYDA GIUSEPPE, DAMIANI MARIO (a cura di) (2001), I casi della mia vita, Cap. V, "Mia educazione e primo concorso", Provincia Regionale di Palermo, Palermo.
GALLO LUCIANA (1997), Il Politeama di Palermo e l'Architettura policroma dell'Ottocento, Epos, Palermo.
BLANDI GAETANO (1991), Il teatro Politeama Garibaldi di Palermo, Edizioni Axon Sicilia, Palermo.
MAZZAMUTO ANTONELLA (1989), Architettura dei Teatri di Sicilia e Società civile (1692-1914), Flaccovio Editore, Palermo.
SAMONÀ ANTONIO (1988), Giovan Battista Filippo Basile: l'architettura tra passato e futuro, Ila Palma, Palermo.
MANISCALCO BASILE LUIGI (1984), Storia del Teatro Massimo di Palermo, Olschki Editore, Firenze.
JODICE, ROMANO (1984), L' architettura del ferro: l'Italia (1796-1914), Bulzoni, Roma.
FATTA GIOVANNI, RUGGERI TRICOLI M. CLARA (1983), Palermo nell'‹‹Età del ferro››. Architettura – tecnica – rinnovamento, Edizioni Giada, Palermo.
DE FUSCO RENATO (1980), L'Architettura dell'Ottocento, Garzanti, Torino.
FUNDARÒ ANNA MARIA (1974), Il Concorso per il Teatro Massimo di Palermo - storia e progettazione, Stass Editore, Palermo.
MOTTA CARINI FABRIZIO (1972), Trattato sopra la struttura de' teatri e scene, introduzione, note e piante di teatri dell'epoca di Edward A. Craig, Il Polifilo, Milano.
FUNDARÓ ANNA MARIA (1964), Palermo 1860-1880. Una analisi urbana attraverso progetti ed architetture di G. Damiani Almeyda, s.n., Palermo.
CARBONARA PASQUALE (1958), Architettura pratica, Vol. III, Sez. 6° "Gli edifici teatrali", Tipografia sociale torinese, Torino.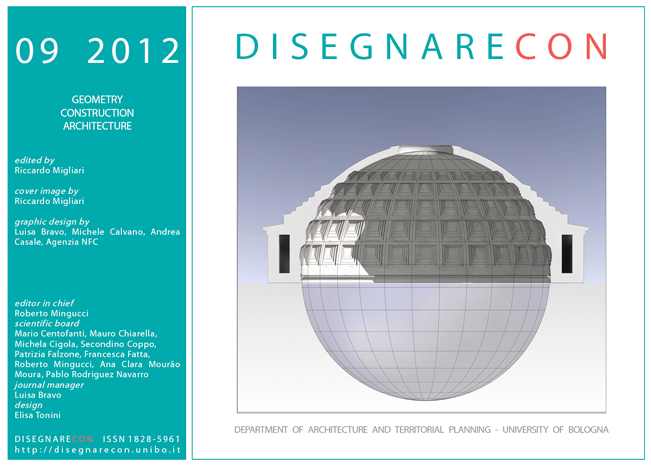 Downloads
How to Cite
Di Paola, F. (2012). The roofing systems of the Politeama's Theater in Palermo. DISEGNARECON, 5(9), 103–116. https://doi.org/10.6092/issn.1828-5961/3158
License
Copyright (c) 2012 Francesco Di Paola
This journal is licensed under a 
Creative Commons Attribution-NonCommercial 3.0 Unported License
.