Medieval vault's geometry and the architect's spacial perception
Keywords:
geometry, gothic, vaults, vault projection
Abstract
Since ancient times, the broader meanings of geometry have been the shadow of both the architect and the scholar. Some textless drawings on ribbed vaults from the Dresden Book of vault projection (1544-1567) show the great value geometry had for mediaval masons . Shrouded by mystic veils, kept jealously in the masons guilds and handed down from master to novice, geometry has always been of great importance to the practical architect. The drawings of the Book, mysterious to the many, speak in clear voice to who is able to understand the melody of  space. The finding of a drawing by Marcello Piacentini on the vault of the Casa Madre dei Mutilati ed invalidi di Guerra in Rome (1925-1928) make us believe that the Dresden Book's method stil played an important role in the formation and vast knowledge of the XXth. sec. architect.
References
Barnes, Carl F. Jr.(2009), The Portfolio of Villard de Honnecourt, Ashgate Publishing Limited, Farnham
Bucher, François (1968), Design in Gothic Architecture, in The Journal of the Society of Architectural Historians, Vol.27, No.1, pp. 49-71
Booz, Paul (1956), Der Baumaster der Gotik, Munich e Berlin
Della Bella, Emiliano (2009), Le costruzioni geometriche nella stereotomia, Tesi di Dottorato, Dipartimento di Rilievo, Analisi, Disegno dell'Ambiente e dell'Architettura, Università Sapienza, Roma
De L'Orme, Philibert (2010), Le premier tome de l'Architecture De Philibert De L'orme, Cõseillier & Aumosnier Ordinaire Du Roy, & Abbé De S. Serge Lez Angiers, Nabu Press, Paris
Maude, Thomas (2009), Guided by a Stone-Mason, I. B. Tauris & Co Ltd, London
Vitruvio, Marco Pollione (1991), De Architectura, Edizioni Studio Tesi s.r.l., Pordenone
Willis, Robert (1910), On the Construction of the Vaults of the Middle Ages, Royal Institute of British Architects, London
MANOSCRITTI:
Book of Vault Projection. Vienna Osterreichische Nationalbibliothek Cod. vind. Min.3
M.S. Cooke, British Museum, Additional M.S. 23,198
Villard de Hennecourt, Paris, Bibliothèque nationale de France, Département des manuscripts, Français 19093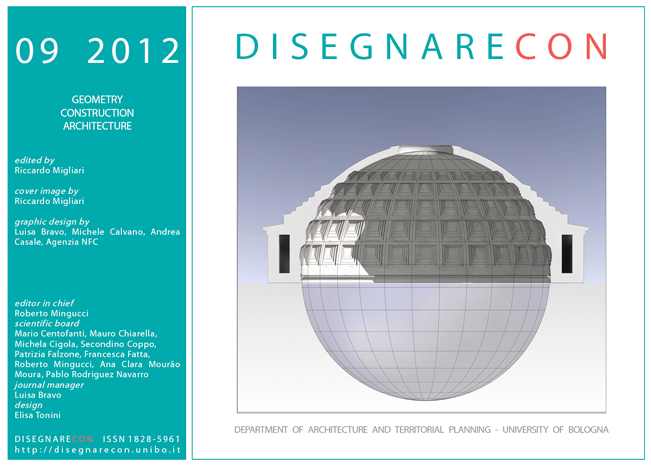 Downloads
How to Cite
Della Bella, E. (2012). Medieval vault's geometry and the architect's spacial perception. DISEGNARECON, 5(9), 93–102. https://doi.org/10.6092/issn.1828-5961/3157
License
Copyright (c) 2012 Emiliano Della Bella
This journal is licensed under a 
Creative Commons Attribution-NonCommercial 3.0 Unported License
.