Architecture - re-Construction - Geometry: a knowledge path applied to the study of Plantery's vaults in Turin
Keywords:
geometry, architecture, survey, digital modeling
Abstract
Plantery's vaults, by the name of the architect working in Turin since first years of '700, are composed by a main vault intersected by some axial and angular secondary vaults. Plantery's vaults allow to roof over unitary spaces obtaining effects of lightness also by small rises. Their diffusion, up to the '80s of the century, in boardrooms as palaces halls, and the richness of variations on the theme, justifies a research, that makes use of survey and digital modeling. This research is focused on the relationships between geometric models and built architecture, connected by use of materials, construction techniques and decorative styles.
References
Cavallari Murat, Augusto (1957), Gian Giacomo Plantery, architetto barocco, in Atti e Rassegna Tecnica della Società degli Ingegneri e degli Architetti in Torino, 11 (7).
Chevalley, Giovanni (1924), Elementi di tecnica dell' architettura : materiali da costruzione e grosse strutture, Pasta, Torino.
Curioni, Giovanni (1864-1870), L'arte di Fabbricare ossia Corso completo d'istituzioni Teorico-pratiche per gli Ingegneri, per gli Architetti, pei Periti in costruzione, pei Periti misuratori, Augusto Federico Negro, Torino.
Curioni, Giovanni (1873-1884), Appendice all'arte di Fabbricare, Augusto Federico Negro, Torino. Formenti, Carlo (1893-5), La pratica del fabbricare, Hoepli, Milano. de L'Orme, Philibert (1a ed. 1567, 1988), Traités d'
architecture. Nouvelles inventions pour bien bastir et à petits fraiz, chez Léonce Laget libraire-éditeur, Paris.
Derand, François (1643), L' architecture des voutes, ou L' art des traits et coupe des voutes : traicté très- util, voire necessaire à tous architectes, maistres massons, appareilleurs, tailleurs de pierre, et generalement à tous
ceux qui se meslent de l' architecture, mesme militaire, chez Sebastien Cramoisy, Paris.
Derossi, Onorato (1781), Nuova guida per la città di Torino, Torino.
Frézier, Amédée-François (1737-39), La theorie et la pratique de la coupe des pierres et des bois pour la construction des voutes et autres parties des bâtiments civils et militaires, ou Traitè de stereotomie à l' usage de l'
architecture, chez Jean Daniel Doulsseker, Strasbourg, chez Charles Antoine Jombert, Paris.
Griseri, Angela, a cura di (1995), Il palazzo Saluzzo Paesana, Allemandi, Torino.
Guarini, Guarino (1671), Euclides adauctus et methodicus mathematicaque universalis, typis Bartholomaei Zapatae.
Guarini, Guarino (1a ed. 1737, 1968), Architettura civile, Il Polifilo, Milano .
Musso, Giuseppe, Copperi, Giuseppe (1912), Particolari di costruzioni murali e finimenti di fabbricati, Paravia, Torino.
Olivero, Eugenio (1932), Il palazzo Cavour in Torino, Stamperia Artistica Nazionale, Torino.
Palladio, Andrea (1a ed. 1570, 1980) , I Quattro libri dell'Architettura, a cura di Licisco Magagnato e Paola Marini, Il Polifilo, Milano.
Paroletti, Modesto (1819), Turin et ses curiosité, Torino.
Piccoli, Edoardo (1996), Architettura barocca in Piemonte: le volte planteriane, tesi di laurea, relatori: Franco Rosso, Anna Maria Zorgno, Politecnico di Torino, Facoltà di Architettura.
Piccoli, Edoardo (1999), Strutture voltate composte nell'architettura civile piemontese del XVIII secolo: le volte 'planteriane', in Palladio, 23, pp. 87-100.
Piccoli, Edoardo (2001), Le strutture voltate nell'architettura civile a Torino, 1660-1720, in Dardanello, Giuseppe, a cura di, Sperimentare l'architettura: Guarini, Juvarra, Alfieri, Borra e Vittone, Fondazione CRT, Torino, pp. 38-
Politecnico di Torino Istituto di architettura tecnica, ricerca diretta da Augusto Cavallari Murat (1968), Forma urbana ed architettura nella Torino barocca: dalle premesse classiche alle conclusioni neoclassiche, UTET, Torino.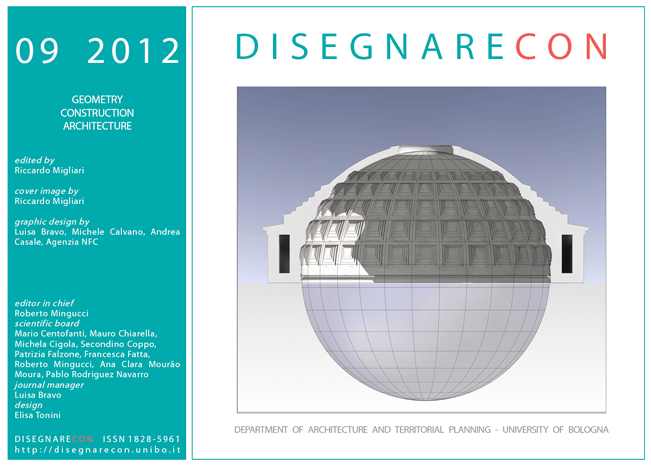 Downloads
How to Cite
Spallone, R., & Vitali, M. (2012). Architecture - re-Construction - Geometry: a knowledge path applied to the study of Plantery's vaults in Turin. DISEGNARECON, 5(9), 187–196. https://doi.org/10.6092/issn.1828-5961/3167
License
Copyright (c) 2012 Roberta Spallone, Marco Vitali
This journal is licensed under a 
Creative Commons Attribution-NonCommercial 3.0 Unported License
.