The Estaus and the city of Tomar
Keywords:
Architectonic Heritage, Convent of Christ, Estaus, Constructions of Infant D. Henrique, Urban History
Abstract
Classified as a building of Public Interest, the Estaus construction dates back to the early 15th century. This study aims to add new and exact data about the origin of the Estaus, what was the purpose of this building, who ordered its construction and what was its appearance as an unfinished work. This paper also refers to how the Estaus were fundamental to the urban geometry of Tomar's city center.
References
Dinis, A. J. D. (1974). Monumenta Henricina, Volume XV (1469-1620), Coimbra: Comissão Executiva das Comemorações do V Centenário da Morte do Infante D. Henrique.
França, J. A. (1994). Cidades e Vilas de Portugal, Tomar «Thomar Revisited», 1ª Edição, Lisboa: Editorial Presença.
Figueiredo e Silva, E. S. (1960). Anais da União dos Amigos dos Monumentos da Ordem de Cristo, Volume IV, Tomar: Publicação subsidiada pelo Instituto - Para A Alta Cultura.
Mota Lima, J. P. F., (1960). Comemorações Centenárias de Tomar – VIII Centenário da Cidade de Tomar V Centenário da Morte do Infante D. Henrique. In: www.monumentos.pt
Pinto, R. S. (coord.) (2004). Tomar: Na Terra dos Templários, Paços de Ferreira: Héstia Editores.
Rosa, A. (1965). História de Tomar, Volume II, Tomar: Gabinete dos Estudos Tomarense.
Rossi, A., Monteiro, J. C. (Tradução) (2001). A Arquitectura da Cidade, 2ª Edição, Lisboa: Edições Cosmos.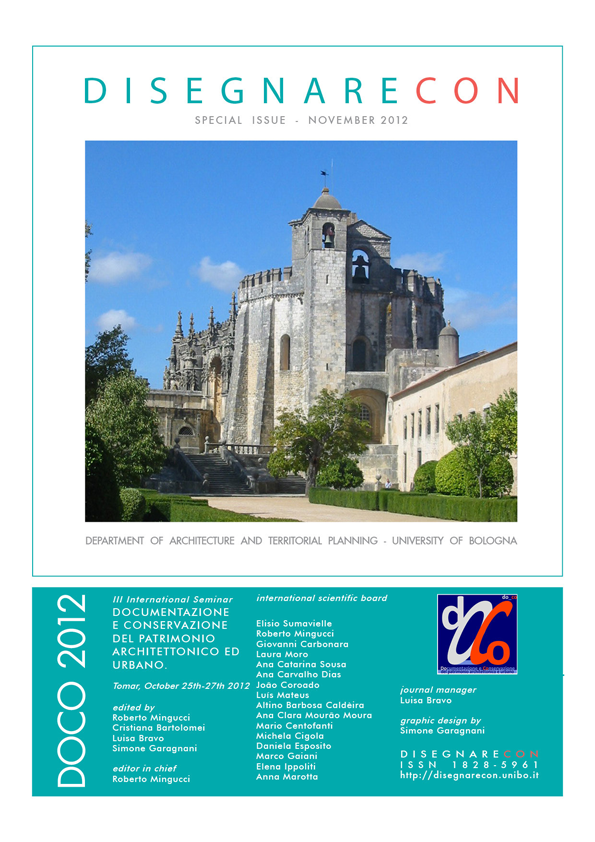 Downloads
How to Cite
Sanchez Salvador, F., & Coelho, T. (2012). The Estaus and the city of Tomar. DISEGNARECON, 5(10), 163–168. https://doi.org/10.6092/issn.1828-5961/3404
License
Copyright (c) 2012 Fernando Sanchez Salvador, Tatiana Coelho
This journal is licensed under a 
Creative Commons Attribution-NonCommercial 3.0 Unported License
.