What if form follows function? The exploration of suitability in the city of Skopje
Keywords:
Urban form and function, geovisualization, dynamic maps, PSS, GIS, grasshopper.
Abstract
The integration of interactive visualization with GIS technologies is nowadays a new frontier in supporting the processes of urban design and planning. Informed three-dimensional modelling systems can provide new insights in understanding both the elements which constitute the city and the relationships among these elements. One key outcome of this combination is the analysis of suitability of residential areas with urban functions. This topic, studied for the Taftalidze residential area in Skopje (Macedonia), generates a relationships between public facilities and perceived quality of life, providing a new urban morphology. The interactive exploration of this new landscape offers a large amount of project elements to investigate, allowing planners and designers to create an own knowledge and awareness on urban questions to be solved.
References
Andrienko, Gennady et al. (2007), Geovisual analytics for spatial decision support: Setting the research agenda. International Journal of Geographical Information Science, 21(8), pp. 839-857.
Batty, Michael (2011), A Generic Framework for Computational Spatial Modelling, CASA, work. Pap. Ser., n.166, 05/2011, UCL, London.
Hopkins, Lewis D. (2011), Planning support systems for cities and regions, International Journal of Geographical Information Science, 25 (2), pp. 324-32.
Lami, Isabella M., Masala, Elena, Pensa, Stefano (2011), Analytic Network Process (ANP) and visualization of spatial data: the use of dynamic maps in territorial transformation processes, International Journal of the Analytic Hierarchy Process (IJAHP), Creative Decisions Foundation (CDF), 3 (2), pp. 92-106.
MacEachren, Alan M., Gahegan,M., Pike, W., Brewer, I., Cai, G. and Lengerich, E. (2004), Geovisualization for knowledge construction and decision-support, IEEE Computer Graphics & Applications, 24 (1), pp. 13-17.
Marina, Ognen and Armando, Alessandro (2012), Urban Project as a Tool for Spatial Integration of Urban Knowledge and Sustainable Development in the Case of Southern Boulevard in City of Skopje, Proceedings of EAAE/ISUF International Conference New Urban Configurations, Delft, The Nederlands, October 2012 (forthcoming).
Marina, Ognen and Pencic, Divna (2009), Urban transformations of Skopje, Fragmented city-Legacy of history, The Spatial Planning in South Eastern Europe, B. Miljkovic-Katic (ed.), Institute of History, Belgrade, Vol. 24, pp. 359-375.
Penn, Alan, Conroy, Ruth, Dalton, Nick, Dekker, Laura, Mottram, Chrion, Turner, Alastair (1997), "Intelligent Architecture: new tools for the three dimensional analysis of space and built form", Proceedings Vol. II, Space Syntax First International Symposium, London, 30.
Portugali, Juval (1999), Self-Organization and the City, Springer-Verlag, Berlin.
UNDP (1970), Skopje Resurgent: the story of a United Nations special fund town planning project, New York, United Nations.
Van den Brink, Adri, Van Lammeren, Ron, Van De Velde, Rob, Dane, Silke (2007), Geo-visualization for participatory spatial planning in Europe: imaging the future. Wageningen Academic Publishers, Mansholt publication series vol. 3, Wageningen (NL).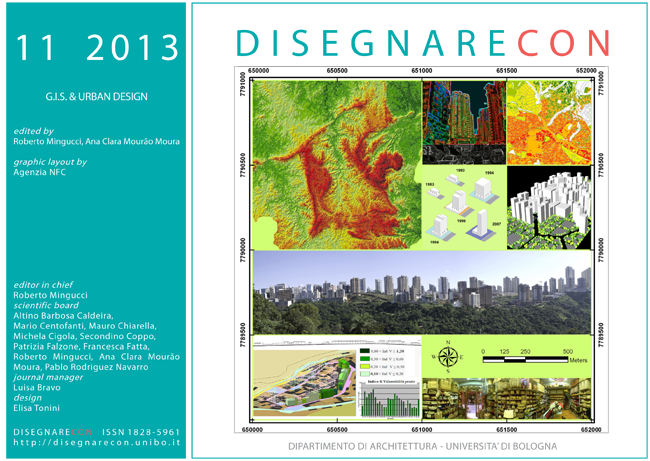 Downloads
How to Cite
Pensa, S., Masala, E., & Marina, O. (2013). What if form follows function? The exploration of suitability in the city of Skopje. DISEGNARECON, 6(11), 141–148. https://doi.org/10.6092/issn.1828-5961/3418
License
Copyright (c) 2013 Stefano Pensa, Elena Masala, Ognen Marina
This journal is licensed under a 
Creative Commons Attribution-NonCommercial 3.0 Unported License
.