Integrated modeling for the restoration project management
Keywords:
A.I.M., information modeling, digital archive, laser scanner survey, VR
Abstract
This paper introduces some possibilities offered by the Information Multimedia Archives (A.I.M.), methodology aimed at existing architectures and important historic monuments documentation. The A.I.M.'s generation process and its digital archive structure result from studies on digital modeling and computer vision intended to document informative surveys, produced during two distinct acquiring and compiling phases. The data is collected in the A.I.M. through increasing levels of detail and organized through the use of databases developed in order to be queried by mobile devices too.
References
R. Mingucci, (1997). Progetto Mura. Recupero e manutenzione del sistema delle fortificazioni di Malta e della chiesa di S. Caterina d'Italia - Università di Bologna - Restoration Unit - Public Works Division - Malta Ministry of Environment, Bologna.
G. Beltramini, M. Gaiani, (2003). Una metodologia di restituzione dei giacimenti documentali dell'architettura in I materiali per lo studio di Andrea Palladio. POLI.design. Milano.
R. Mingucci, (2003). Disegno interattivo, Pàtron Editore, Bologna.
S. Garagnani, (2010). Multimedialità ipertestuale per banche dati di progetto, in Sistemi informativi integrati per la tutela, la conservazione, e la valorizzazione del patrimonio architettonico e urbano. MIUR PRIN COFIN 2006, coordinatore scientifico nazionale Mario Centofanti, a cura di Stefano Brusaporci, Gangemi, Roma.
A.M. Manferdini, (2010). Digital survey of ancient mosaics of Ravenna. In J.P. Mills, D.M. Barber, P.E. Miller and Newton I. (a cura di), The international archives of the photogrammetry, remote sensing and spatial information sciences, Proceedings of the ISPRS Commission V Mid-Term Symposium 'Close Range Image Measurement Techniques'. International Archives of Photogrammetry, Remote Sensing and Spatial Information Sciences. Newcastle upon Tyne, Gran Bretagna, 21-24 Giugno 2010, (vol. XXXVIII, Part 5, pp. 434-439).
A.M. Manferdini, L. Cipriani, L. Kniffitz, (2011). Methodologies of digital 3D acquisition and representation of mosaics. In Remondino F., Shortis M.R. (a cura di), Videometrics, range imaging and applications XI, Proceedings of SPIE Optical Metrology, SPIE, Washington. Monaco, Germania, 25-26 Maggio 2011, (0277-786X, vol. 8085, 12 pagine).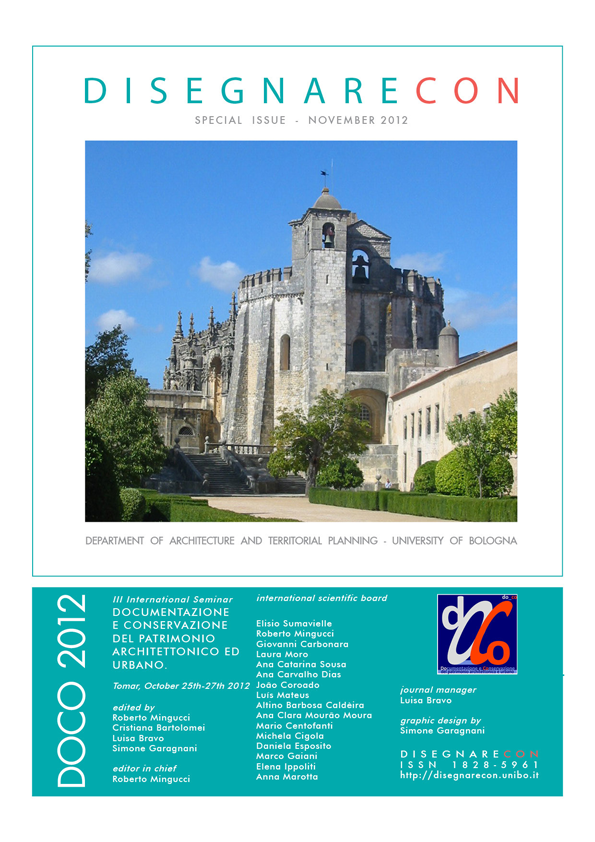 Downloads
How to Cite
Mingucci, R., Garagnani, S., Manferdini, A. M., Bartolomei, C., & Cipriani, L. (2012). Integrated modeling for the restoration project management. DISEGNARECON, 5(10), 103–106. https://doi.org/10.6092/issn.1828-5961/3457
License
Copyright (c) 2012 Roberto Mingucci, Simone Garagnani, Anna Maria Manferdini, Cristiana Bartolomei, Luca Cipriani
This journal is licensed under a 
Creative Commons Attribution-NonCommercial 3.0 Unported License
.