Casual City: informal visions of designed architectures
Keywords:
city, vision, informal
Abstract
Read the architecture means address issues of structure, type, homogeneous categories. It means to give connotation to the signs, highlight significant and symbols, measures and relationships. The construction of an architecture is the result of a design. Each design is completely in order with standards and regulations. Places of city, which are subject to the rules, order and govern the space. In residential areas there is, however, an unusual form of mutation of the architecture. The residential architecture, built according to the design is, over time, assaulted by unconventional elements. Elements are attributable to random processes that generate unexpected transformations. The architecture is transformed from processes uncontrolled. The architecture of the project is converted into informal architecture.
References
Rosa, Marcos L. (2011), Micro planejamento praticas urbanas criativas, Editora da CulturaAsahi, Sao Paulo.
Germer, Helmut - Neeser, Thomas,(2010), Die Erste Dimension/TheFirtst dimension, Birkhauser, Basel.
Siffrein-Blanc, Françoise - Denis-Loussier, Florence - Oppermann, Françoise (2013), Arty Guide Marseille, L'artprendl'air, Marseille.
De Rubertis, Roberto (2008), La città mutante, Franco Angeli, Milano.
De Rubertis, Roberto - Soletti, Adriana, (2000), De Vulgari architectura, Officina Edizioni, Roma.
Zerlenga, Ornella, (2008), ...Misure in divenire...Mesaures in become. Rilievo multidimensionale di nuovi contesti urbani fra permanenze e contaminazioni, La Scuola di Pitagora,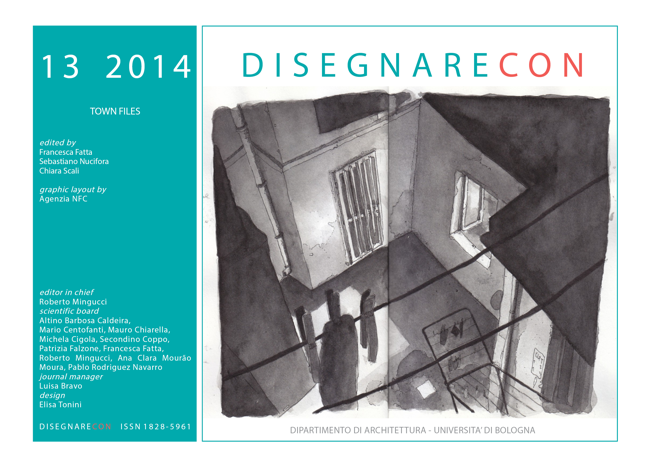 Downloads
How to Cite
Raffa, P. (2014). Casual City: informal visions of designed architectures. DISEGNARECON, 7(13), XVII / 1–10. https://doi.org/10.6092/issn.1828-5961/4126
License
Copyright (c) 2014 Paola Raffa
This journal is licensed under a 
Creative Commons Attribution-NonCommercial 3.0 Unported License
.