Montepulciano 3D virtual models for urban planning and development of the urban environment
Keywords:
City ​​image, 3D models, Interactive platforms
Abstract
The research work carried out by the Department of Architecture of Florence and the Department of Civil Engineering and Architecture of Pavia for the administration of Montepulciano (SI) was aimed to study new methods of analysis and promotion of the city.
The representation of the street fronts of the historic center, realized in a decade of analysis in which it is carried out the study for the planning, has formed a corpus of documents useful for the realization of a three-dimensional model of the city itself. The model, which allows a dynamic interaction with the urban structure, has been designed to develop tools for valuation of the activities and the historical and cultural heritage. It is possible through the determination of a structure of a visual interface and interactive multimedia which would transform the model in a real emotional space.
References
Saalman H., (1973), Il Palazzo Comunale di Montepulciano: un lavoro sconosciuto di Michelozzo, Ed. Monte dei Paschi di Siena, Siena.
Guidoni E., Marino A., (1972), Territorio e città della Valdichiana, Roma.
Secchi Tarugi G., (1960), La tradizione delle origini etrusche di Montepulciano, in Studi Etruschi, n.28, Firenze.
Marchetta M., (1992) Montepulciano: il centro storico e il collegio dei gesuiti, Ed. Electa Editori Umbri, Perugia.
Calabresi I., (1971) L'abitato urbano di Montepulciano nel Medioevo, in L'Araldo Poliziano, a. LXVI, n. 24 del Giugno.
Schneider F., (1975) L'Ordinamento pubblico nella Toscana Medievale, Firenze.
Liceo Classico A. Poliziano, (1990), Fortezza e Liceo classico a Montepulciano, storia di un complesso architettonico e di una istituzione scolastica, Ed. Editori del Grifo Italia, Montepulciano.
Bertocci S., Bianchini L., Parrinello S., (2004), La schedatura del centro storico di Montepulciano, Piano Strutturale, Comune di Montepulciano, Montepulciano, p.p.7-12.
Bertocci S., Bianchini L., Parrinello S., (2004), La documentación y la valorización del centro histórico de Montepulciano. Nuevas tecnologías al servicio de la planificación urbana, Noveno Seminario Internacional Forum UNESCO, Buenos Aires, 11-15 Ottobre 2004, pag. 162.
Cullen G., Townscape, trad. It., (1976 ), Il paesaggio urbano, morfologia e progettazione, Ed. Calderini Bologna.
Heidegger M., (1976), Saggi e discorsi, Ed. Mursia, Milano.
Bertocci S., Parrinello S., (2007), Rilievo e Piano di Gestione per il Centro storico di Montepulciano, in P.Clini, N.Lancioni, R. Quattrini, (a cura di) atti del convegno EARCOM 07Sistemi Informativi per l'Architettura, Alinea editore, Firenze, 2007 p.p. 108-113
Lynch K., (2006), L'immagine della città, Marsilio Editori, Venezia.
Maldonado T., (2005), Reale e Virtuale, Feltrinelli Editore, Universale Economica, Saggi, Milano.
Migliari R. (a cura di ), (2004), Disegno come modello, Edizioni Kappa, Roma.
Schulz C. N., (1979), Genius loci. Paesaggio ambiente architettura, Mondadori Electa, Milano.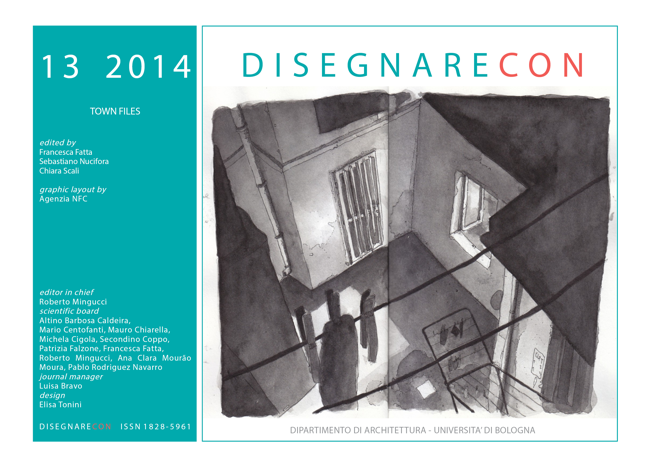 Downloads
How to Cite
Bertocci, S., Bua, S., Parrinello, S., & Picchio, F. (2014). Montepulciano 3D virtual models for urban planning and development of the urban environment. DISEGNARECON, 7(13), V / 1–20. https://doi.org/10.6092/issn.1828-5961/4152
License
Copyright (c) 2014 Stefano Bertocci, Sara Bua, Sandro Parrinello, Francesca Picchio
This journal is licensed under a 
Creative Commons Attribution-NonCommercial 3.0 Unported License
.