Town Files. Between desire and need, the representation of the urban landscape in the era of digital thinking
Keywords:
urban landscape, architectural representation, town files
Abstract
The representation of the city is read through the desire, the need, the celebration. "Place complex" par excellence: aggregation, concrete, planned and at the same time dissociating, fickle, disintegrated. The urban sites are an ever actual and stimulating theme for the representation and the generated "files" sometimes can assume unusual sizes and drawings can be compared on very different levels.
In this issue of DISEGNARECON are intertwined readings of utopian and heterotopic cities according to the city's dichotomy between heaven and hell; stratified cities able to show its thickness through historical documents and old maps; possible cities determinated by certain projects and ideas for the their development; perceived cities through signs, suggestions, landscapes, real cities animated by the concreteness of programs, the executions, the chronicles
References
Serres, Michel (1991), Il contratto naturale, Feltrinelli, Milano.
Serres, Michel (1992), Il mantello di Arlecchino, Marsilio, Milano.
Dethier, Jean, Guiheux, Alain (1994), La ville, art et architecture en Europe, 1870-1993, Editions du Centre Pompidou, Paris.
Pacelli, Donatella (2004), Nuove espressioni di socialità. Dal reale al virtuale: il reticolo delle esperienze giovanili, F.Angeli, Milano.
Mezzetti, Carlo (2005), Dalle città ideali alla città virtuale, Kappa, Roma.
Boniburini, Ilaria (2009), Alla ricerca della città vivibile, Alinea, Firenze.
Sejima, Kazuyo (2010), People meet in Architecture, Biennale Architettura 2010, catalogo della mostra, Marsilio, Venezia.
Marchi, Alessandro, Valazzi, Maria Rosaria (2012), La città ideale. L'Utopia del Rinascimento a Urbino tra Piero della Francesca e Raffaello, Electa, Milano. www.rappresentazioni.it, a cura di Livio Sacchi e Maurizio Unali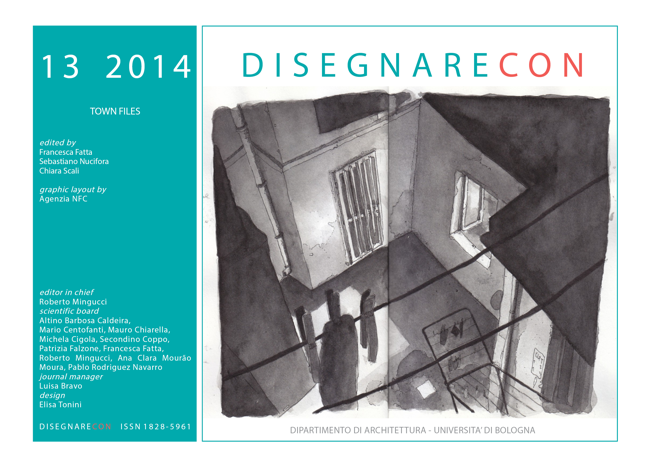 Downloads
How to Cite
Fatta, F. (2014). Town Files. Between desire and need, the representation of the urban landscape in the era of digital thinking. DISEGNARECON, 7(13), PRESENTAZIONE / 1–8. https://doi.org/10.6092/issn.1828-5961/4316
License
Copyright (c) 2014 Francesca Fatta
This journal is licensed under a 
Creative Commons Attribution-NonCommercial 3.0 Unported License
.