Multimedia Information System of the commercial activities in Bologna.
Keywords:
Multimedia Information, Trade, Design, Bologna
Abstract
The article proposes an adequate methodological approach for operational monitoring and catalog the trade and crafts in the historic center of Bologna, in order to be able to allow proper development, through the creation of a Multimedia Information System.
References
Brini Giuseppe (1978), Artigiani a Bologna, CNA, Bologna
McAnally Patrick (1975), Economia della distribuzione commerciale, Il Mulino, Bologna
Fanti Mario (1980), I Macellai Bolognesi, Poligrafici Luigi Parma, Bologna
Coppe Renato (1988), Guida culturale industriale commerciale artigianale e turistica di Bologna e provincia, Aniballi edizioni, Bologna
Cloar, J., Stabler, E., De Vito, A. (1990), Centralised Retail Management: New Strategies for Downtown, Urban Land Institute, Washington
Molinari Pradelli, Alessandro (1994), Bologna in vetrina-dall'unità d'Italia alla Belle Epoque, L'inchiostroblu, Bologna
Roversi Giancarlo (1994), I Caffè storici in Emilia Romagna e Montefeltro, Grafis, Bologna
E.R. Iscom ( 1994), Marketing urbano. Valorizzazione del commercio nei centri storici, Etas, Milano
Bromley R.D.F., Thomas C.J. (1995), "Small town shopping decline: dependence and inconvenience for the disadvantaged", The International Review of Retail, Distribution and Consumer Research, vol. 5, n. 4, pp. 433-456
Aguiari R. (1997), "Le strutture commerciali come componenti dell'arredo urbano: i centri commerciali, le associazioni di via, l'ambulantato", in Baccarani C. (a cura di), Imprese commerciali e sistema distributivo. Una visione economico-manageriale, Giappichelli, Torino
Mele R., Sicca L.M. (1998), "Le funzioni del piccolo commercio in un sistema distributivo moderno", Sinergie, n. 46
Castaldo Sandro. (a cura di) (2001), Retailing & innovazione. L'evoluzione del marketing nella distribuzione, EGEA, Milano
Zanderighi Luca (2001), "Town Center Management: uno strumento innovativo per la valorizzazione del centro storico e del commercio urbano", Industria & Distribuzione, n.2
Indicod (2003), Valorizzare il centro urbano. Tra indirizzi strategici e modelli gestionali, atti del Convegno tenutosi a Milano, 11 giugno
Capasso Aldo "(2004), Commercio su aree pubbliche: mercati scoperti, in Fumo Marina. (a cura di), Dal mercato ambulante all'outlet – luoghi e architetture per il commercio, Compositori, Bologna
Capasso Aldo ( 2004), Commercio e città. Mercato protetto e qualità urbana, in: Bucci Alessandro ,Diolaiti Donatella. (a cura di), Città Commercio Architettura, Alinea, Firenze
Zanderighi Luca (2004), Commercio urbano e nuovi strumenti di governance. Linee guida per lo sviluppo del Town Centre Management in Italia, Il sole 24 ore, Milano
Restuccia Franca, Galizia Mariateresa, Santagati Cettina (2011) Knowledge and/is safeguard: Via Umberto and the Rinazzo quarter in Catania. In: C. Gambardella (editor) Le vie dei Mercanti, S.A.V.E. Heritage. Safeguard of Architectural, Visual, Environmental Heritage. Collana Fabbrica della Conoscenza vol 10, La Scuola di Pitagora editrice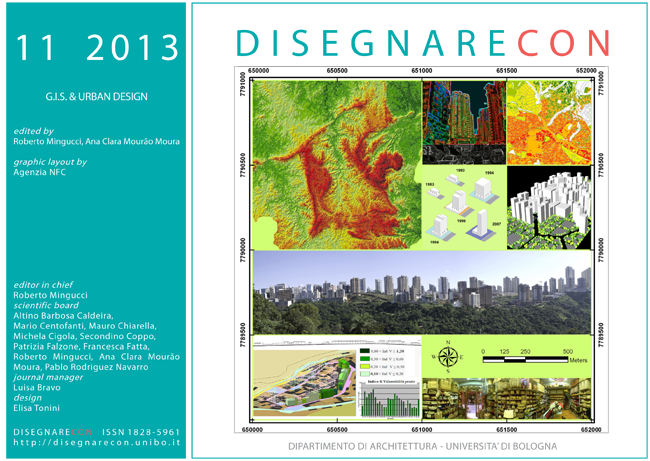 Downloads
How to Cite
Bartolomei, C. (2013). Multimedia Information System of the commercial activities in Bologna. DISEGNARECON, 6(11), 21–30. https://doi.org/10.6092/issn.1828-5961/3424
License
Copyright (c) 2013 Cristiana Bartolomei
This journal is licensed under a 
Creative Commons Attribution-NonCommercial 3.0 Unported License
.