Possible landscapes in norms: how are they designed and communicated?
Keywords:
Geoprocessing, Landscape management, Urban parameters communication
Abstract
Urban landscapes are the result of transformations which occur in different time and space scales. When considering a wider time scale, landscapes are the result of applying norms of land use and occupancy, configuring punctual volumes which form, when added together, a complex whole. In a shorter time scale, urban interventions are transformations as precise as surgeries, stirred by entrepreneurism. Considering these observations about how formally planned landscapes are formed, a few questions are raised, motivating this investigation: can a community – which inhabits, observes and constructs in any given landscape – understand, accompany and approve a new spatial configuration, transformed by interventions and controls? Is it possible to contribute, in any way, towards urban managements, promoting the science behind proposals and possibilities within the norms which model a landscape? What is the state-of-the-art of these transformations, especially in the changes promoted by urban management resulting from legislations? From these initial inquiries, a main question sums up the aim of this paper: How the possibilities which involve a designed urban landscape are communicated? Therefore, it's interesting to analyze case studies in order to elucidate this guiding question. Two territorial realities, as pilot areas, are going to aid this investigation, regarding their similarities and differences.
References
Cavallazzi, Rosângela L., D'Oliveira, Sônia A. L. C. (2002), Gestão ambiental do solo urbano: o direito à paisagem, in: Fernandes, Edesio; Rugani, Jurema Marteleto, Cidade, memória e legislação: a preservação do patrimônio na perspectiva do direito urbanístico, Belo Horizont, Instituto dos Arquitetos do Brasil, pp. 293-298.
Gomes, Gláucia (2006), A economia política do/no espaço e as (im) possibilidades do Urbano na metrópole contemporânea,), Universidade Federal de Minas Gerais, Belo Horizonte, Brasil, <http://goo.gl/7G3av>.
Harvey, David (1994), Condição Pós-Moderna, São Paulo: Loyola.
Hertzberger, Herman (1999), Lições de arquitetura, São Paulo, Martins Fontes.
Jacobs, Jane (2000), Morte e vida de grandes cidades, São Paulo, Martins Fontes.
Maciel, Carlos (2011), Lecture "Viver na Floresta", Belo Horizonte.
Pires, Cláudia (2012), CODEMA de Nova Lima não tem representação da sociedade civil, <http://goo.gl/2fcXk>.
Plambel (1976), Plano de Ocupação do Solo da Aglomeração Metropolitana de Belo Horizonte, Belo Horizonte, PLAMBEL.
Rodrigues, Maysa Gomes (2001), Zona de fronteira: os limites da gestão urbana, Belo Horizonte, Pontifícia Universidade Católica de Minas Gerais.
Sena, Goretti (2011), Obra dá início à ocupação do Vale do Sereno, in Jornal do Belvedere, Belo Horizonte, <http://goo.gl/RRhAIv>.
Senra, Enric (2011), Lecture on the seminar "Lo proximo. Lo necessário", Santander Spain, July, 2011.
Soja, Edward W. (2008), Postmetrópolis: Estudios críticos sobre las ciudades y las regions, Madri, Queimada Gráficas.
Souza, Marcos Felipe Sudré (2010), A festa e a cidade :experiência coletiva, poder e excedente no espaço urbano, Belo Horizonte, Universidade Federal de Minas Gerais. <http://hdl.handle.net/1843/RAAO-8CDML4>.
Vainer, C.(2000), Pátria, Empresa, Mercadoria: notas sobre a estratégia discursiva do planejamento urbano, in: Arantes, Otília; Vainer, Carlos; Maricato, Ermínia, A cidade do pensamento único. Desmanchando Consensos, Petrópolis, Vozes, pp. 75-103.
Zyngier, Camila Marques; Moura, Ana Clara Mourão (2012), Paisagens possíveis: geoprocessamento na análise da ação de agentes modeladores das paisagens urbanas dos Bairros Santa Lúcia e Vale Do Sereno. Belo Horizonte: Núcleo de Pós- Graduação em Arquitetura e Urbanismo. <http://hdl.handle.net/1843/BUOS-8YQNNJ>.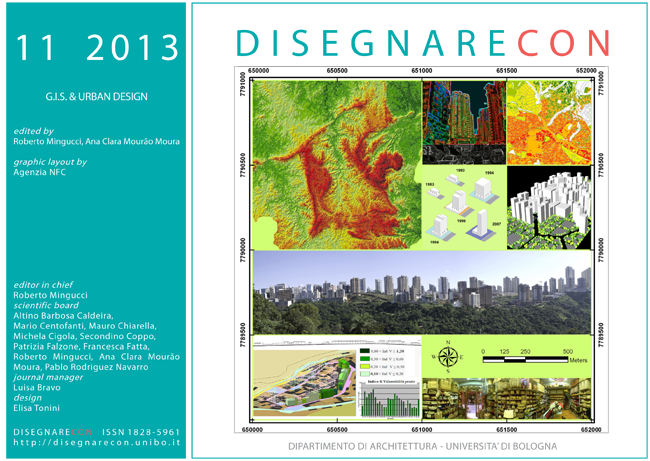 Downloads
How to Cite
Zyngier, C. M. (2013). Possible landscapes in norms: how are they designed and communicated?. DISEGNARECON, 6(11), 121–132. https://doi.org/10.6092/issn.1828-5961/3389
License
Copyright (c) 2013 Camila Marques Zyngier
This journal is licensed under a 
Creative Commons Attribution-NonCommercial 3.0 Unported License
.