DISEGNARECON is a digital journal focused on research and feedbacks related to the Architectural Drawing field and to the Project Communication. It is a tool intended to create an international network aimed to discuss both for stakeholders and academic researchers, in order to develop a comparison in the Construction Engineering and Architecture areas.
DISEGNARECON is supervised by the teaching staff of DA - Department of Architecture, which is part of Alma Mater Studiorum University of Bologna (ITALY).
Editor in chief: Roberto Mingucci
Scientific Board: Altino Barbosa Caldeira, Mario Centofanti, Mauro Chiarella, Michela Cigola, Secondino Coppo, Patrizia Falzone, Francesca Fatta, Riccardo Migliari, Roberto Mingucci, Ana Clara Mourão Moura, Pablo Rodriguez Navarro
This issue of the journal DISEGNARECON is the last published by the University of Bologna. From the number 14 (Vol. 8-2015) the journal is published by the University of L'Aquila - Dipartimento di Ingegneria civile, edile-architettura, ambientale: http://disegnarecon.univaq.it/.
Current Issue
Vol. 7, n. 13 (2014) - Town files, edited by Francesca Fatta, Sebastiano Nucifora and Chiara Scali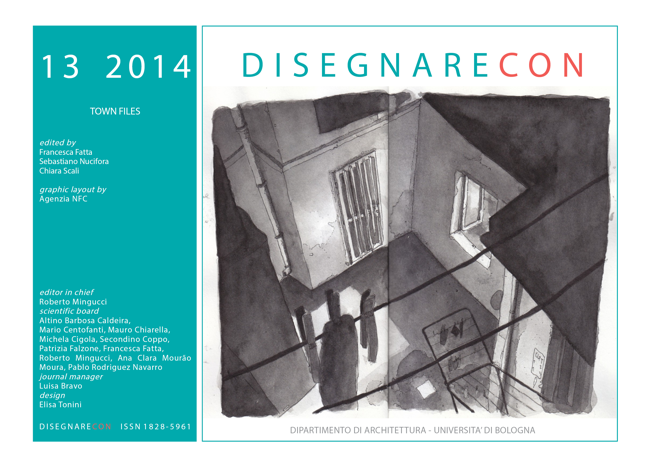 between desire and need: the representation of urban landscape in the digital thinking era.
The act of representing city has acquired, over time, different meanings. the need of comprehension, expressed with precision of measurement and geometry, relative to practical and military issues, alternated with the desire to magnify, or imagine, the urban landscape in both of works of artists, realistic or utopian and prophetic ones, always affected by the use of methods and tools that the technique of representation has from time to time made available to them.
View All Issues